The Aluma Tower
----------------------------------------------------------------------------------------------------------------------------------------------------------------------------------------------------------------
07/11/2015 - Some of the parts I ordered for other projects have arrived - just in time for me to change gears completely... Over the weekend I literally STUMBLED upon a 31 ft. aircraft aluminum, tilt-over/crank up tower complete with a 120v electric winch in Arlington for the paltry sum of $650.00 on ePray! Sometime this week we will journey to Arlington (a 4 hr drive) to pick it up and drag it home. It collapses to about 12 ft. and extends to about 31 ft. The owner says it will be easy for two people to toss this tower in a pickup truck as it only weighs a couple of hundred pounds total. (The heaviest part being the winch!)
SQUIRREL!!! An ad caught my eye... This came along at the perfect time! It showed up on a semi-unrelated search by happen-stance! Like a squirrel in the yard.
After some refurbishment, I will end up with a small tower I can raise and lower by myself whenever it suits me and I won't have to CLIMB IT!!! At 12 ft. collapsed, I can get to it via a ladder! This gives me another tower that I can easily and quickly drop on command and a test bed I can TINKER with it to my hearts content!
07/13/2015 - The arrangements have been made, the info has been disseminated and we are locked in and ready to go pick up the aluminum tower on Tuesday morning!
07/14/2015 - Morning came and we made a mad dash up to Arlington and back - 4 hours up and 4 hours back, it made for a long day! But the new aluminum tower is now here at my home, up on saw horses and I even stopped by Harbor Freight Tools and picked up a new 120v 1500 lb winch for it. Tomorrow I get to power wash it all down and see how I can mount the new heavy duty winch. I tested the winch on the tower and it works! But it's kind of fugly and rusty and I dont trust it not to jam up or otherwise fail when the tower is fully extended - so, when in doubt, replace it! Now I need to go collect some rebar and J-bolts so I can start digging the hole...
07/15/2015 - This morning, I turned on the pressure washer and got to work on the new aluminum tower... As expected, I found a few problems. Upon a thorough cleaning, I discovered one of the three "aircraft cables" used to raise and lower this beast has been replaced by a piece of nylon rope. It works, but I don't trust it with a heavy antenna load on it, so I am going to have to go hunting for some small cable and clamps to replace it. I also found that one of the support braces on the bottom section is completely missing. It probably broke off years ago and it probably doesn't hurt its integrity too much but I know a welding shop that does work on aluminum and I can probably talk them into fixing it for me. One other issue I wasn't prepared for, the rotor cannot bolt directly to the top of the tower. I need to fabricate some kind of heavy duty adapter plate to be able to attach my big Ham-IV rotor to this beast. As we were loading it up, the previous owner told me - "I sold the rotor a while back and had to make my own adapter plate..." Upon arriving home and inspecting it, there's no way on God's green earth to attach my rotor without some sort of "adapter plate". Oh well... I ordered up 5 3/4" 16 inch long anchor bolts from Fastenal for the tower base this morning as a bit of retail therapy for my frustration... Winch fitting to follow!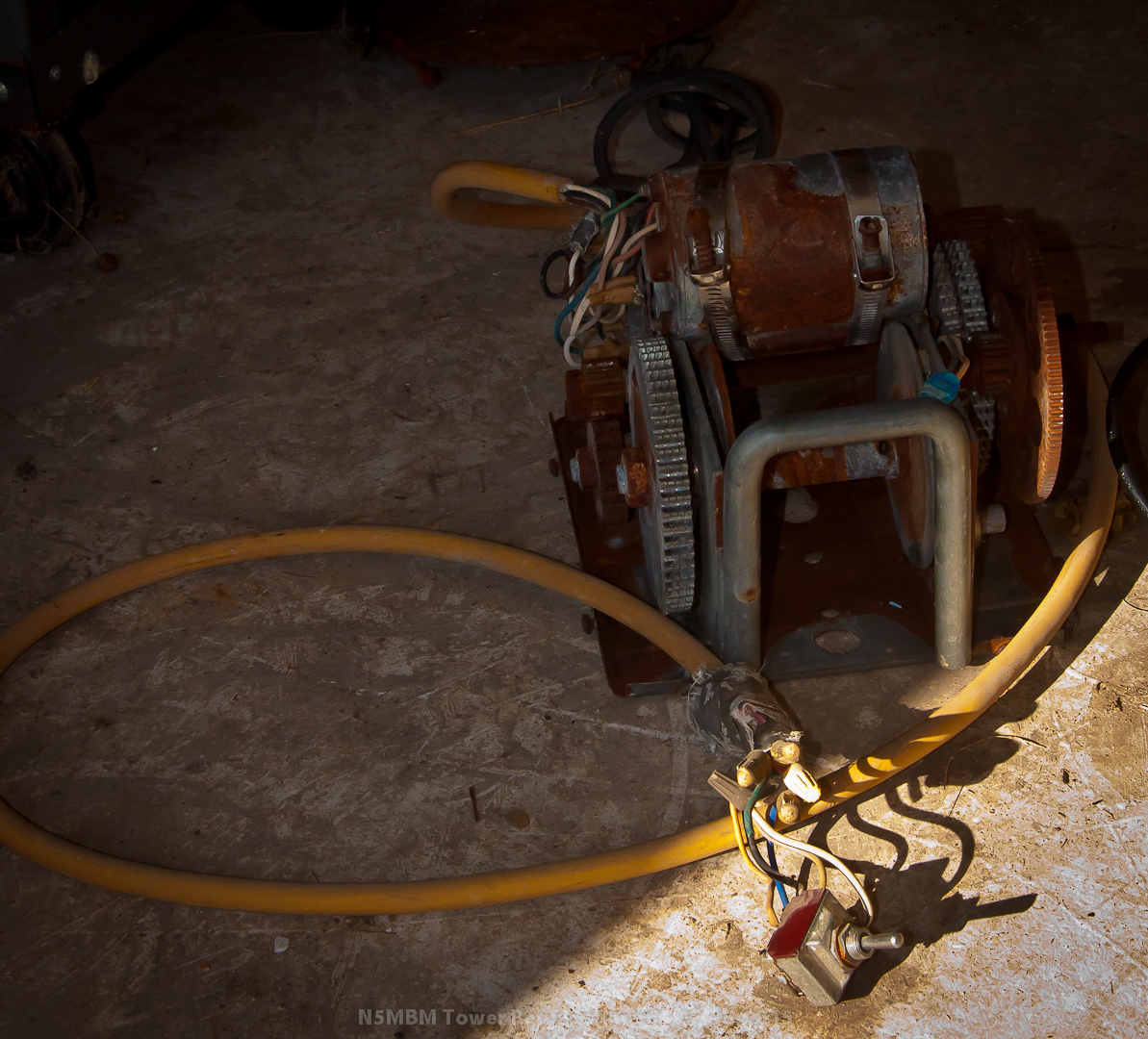 The old winch wasn't just tired looking, it was rusty, crusty and when it operated it sounded like a bunch of marbles in a washing machine. The switch was jury-rigged, but it worked! But it needed replacement if I was going to do this project "right"!... I shocked myself twice while playing with it! But, it can be cleaned up, lubricated and set aside for use INside the barn someday. It will never see the weather again, that's for sure!

Harbor Freight Tools to the rescue! I picked up a 1500 lb. 120v winch and proceeded with drilling new mounting holes and hanging it on its new home. As you can see, comparing the two, the new one might be called heavy duty! I think it will give many years of faithful service... (Crosses fingers, it is Chinese after all!)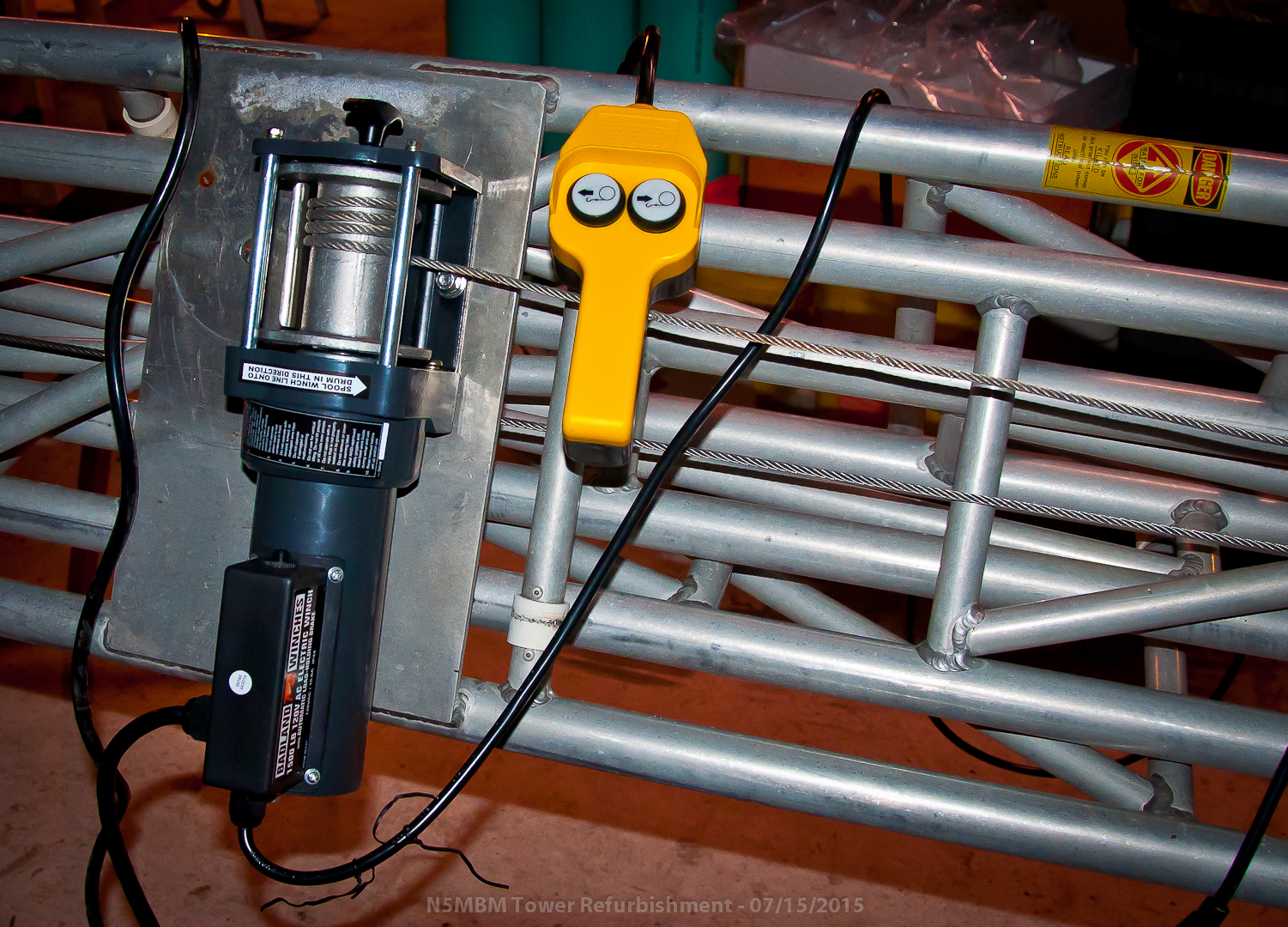 I think it looks pretty good in its new home... I laced the original cable onto the new winch, thus saving a lot of trouble by NOT changing cables. I replaced the nylon rope with aircraft cables and some clamps, which went pretty smoothly but I had to do it three times to get it adjusted "just right". The moment of truth came, I plugged it in to test the winch, the new cables and the tower telecoping operation and it goes up and down exactly like it should! I can't wait to point it skyward!
I contacted the manufacturer with an Email today, just to see if they have some sort of off the shelf rotor plate adapter for Ham-IV rotors. I got an Email back saying the Vice President of sales will be contacting me back in the next 24 hours. Here's hoping I don't have to re-invent the wheel and create my own!
07/17/2015 - I heard back from the manufacturer of the tower (alumatower.com) and since this was originally sold for a windsock application, there is no adapter plate available for my intended purpose. I will have to make my own. So I traced it out on a piece of paper, scanned it and sent it off to a couple of local welding shops with my specs. After I did this, I went out and bought a plasma cutter to see if I could build something over the weekend and maybe not need the welding shop...
07/18/2015 - Sparked up the plasma cutter today and cut up some plate metal. I am making the prototype adapter for the rotor. After learning how to use the cutter in the morning, I made some cuts for the project in the afternoon. This plasma cutter is FUN! It does a pretty good job and can cut pretty fast if you have it set right. But my time out in the heat today was short, I can't handle it too much anymore. The hotter I got, the "less straight" all my cuts became! The Texas heat is murder...
07/22/2015 - Cut the holes and drilled the mounting bolt holes and ground the edges down and prepared for the mast attachment to the adapter plate. The grinding took longer than I expected it to. It's tough to see what you are doing with rivulets of sweat pouring down in your eyes. My time outside in the heat is severely limited these days, shorter than I would like! Standing in front of the fan is like being in a convection oven in the barn...
07/23/2015 - I finished off my prototype mount adapter - BOY is it ugly! The dirt dobber welds and the rough edges that aren't straight are a stark reminder that I have never used a plasma cutter and it has been about 10 years since I picked up my MIG welder wand last. I am out of practice and it shows! There is no way on God's green earth I am going to trust my big yagi antenna to my Frankenstein creation! Even though it looks tough, the materials it is made out of aren't thick enough for the job I need them to do. But at least I have something to show the welding shop and they will know what I need. I am loading up the truck with the tower tonight to deliver it to the welding shop in the afternoon tomorrow. I spent four hours out in the heat from 8am till noon. It was 104 on the blacktop outside the barn. It damn near killed me... I need a truck load of ice to put behind the fan in the barn!
07/24/2015 - I dropped the tower off at H&H Machine in Brenham so they could repair the broken strut and build my new tower to rotor adapter plate with a 2" stub out of 1/4 inch thick steel plate.
07/31/2015 - I picked up the tower AND the new rotor adapter plate from H&H Machine. It looks pretty good! They did a very professional job!
It's official - July SUCKS for doing projects outside... It's just too damn hot! August is coming and I am NOT looking forward to it...
08/01/2105 - I installed the tower on the base plate after leveling it. That was a chore! Back and forth and back and forth and back and forth and back and forth but I finally got it leveled and the tower plumb! I was pleasantly surprised that I could walk this up and down all by myself with no help from anyone and it wasn't a massive strain either! It's rather easy to put this up and take it down. I tested the winch and it got stuck - it needs more weight on top of it! That will be solved when I install the rotor and the antennas...
08/02/2015 - I installed the rotor and the 5 ft. mast up top while it was still laid over on the ground. It's a heavy beast! This should keep it from getting stuck on the way back down!
8/15/2015 - It's vertical! With a 10 meter antenna on it, so far. I haven't been able to spend much time on the project, life keeps getting in the way!
This whole thing is an exercise in patience, patience has never been my strong suit... More to follow soon!

Bill - N5MBM